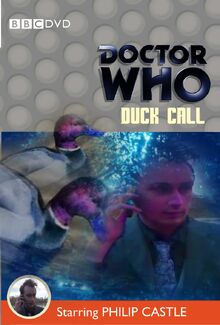 Duck Call is a minisode featuring The Castle Doctor.
It involves The Doctor talking to some ducks about his new body.
The episode ends on a cliffhanger, where The Doctor receives a mysterious call inviting him to the planet Skaro.
As revealed in Beyond the TARDIS, Philip Castle wanted to keep this episode a complete surprise for the fans, so it was deliberately left unannounced. The production of this mini episode was so top secret, Castle did not even tell other members of the production crew that the episode was in the works.
Ad blocker interference detected!
Wikia is a free-to-use site that makes money from advertising. We have a modified experience for viewers using ad blockers

Wikia is not accessible if you've made further modifications. Remove the custom ad blocker rule(s) and the page will load as expected.