Tayven Merrik is a recurring character and villain in Philip Castle's Doctor Who Fan Series.
He is portrayed by Jonathan Dahl.
Tayven has a vendetta against The Doctor because he believes that he killed his brother when, in actual fact, it was the Cybermen. Not realising this, he shot The Doctor, forcing him to regenerate.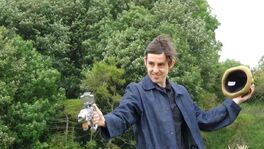 Ad blocker interference detected!
Wikia is a free-to-use site that makes money from advertising. We have a modified experience for viewers using ad blockers

Wikia is not accessible if you've made further modifications. Remove the custom ad blocker rule(s) and the page will load as expected.